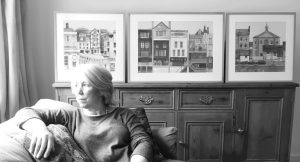 I am a painter/printmaker with a love of urban landscape and architecture, particularly those less glamorous glimpses. The backs of buildings can often reveal more of their personality than the renovated fronts, and an untidy back yard especially so. I love small-scale domestic architecture – the sort of houses that ordinary people live in. I sketch wherever I go – this enables me to get a real understanding of the location I'm in. But I often distill this in the finished piece, to give more of the flavour of a place rather than an accurate depiction. Sometimes I will combine sketches from several different places, filter them through my imagination, and produce a new version of reality, based entirely on wishful thinking – a rather ideal world that has some resonance for everyone. The comment I hear most is 'I know where that is' but the paintings and prints are much more about the feel and memory of many places, rather than one.
I offer mixed media painting demonstrations and workshops to art groups in the South East of England, and can run workshops in collage and printmaking techniques.
I am a member of the Society of Graphic Fine Art and was elected to its governing Council, where I served for six years. I have exhibited regularly with the SGFA in locations as diverse as Bankside Gallery, The Barbican, Tower 42 in the City of London and the World of Glass in St Helen's.
I am a member of Ochre Print Studios in Guildford and have exhibited with them in Surrey and beyond.
I am the Vice-President of North Weald Art Group, based in Reigate, Surrey.
Since 2009 I have been shortlisted eight times for the prestigious Surrey Artist of the Year Award, and was delighted to be runner-up in 2015.
Follow me on social media